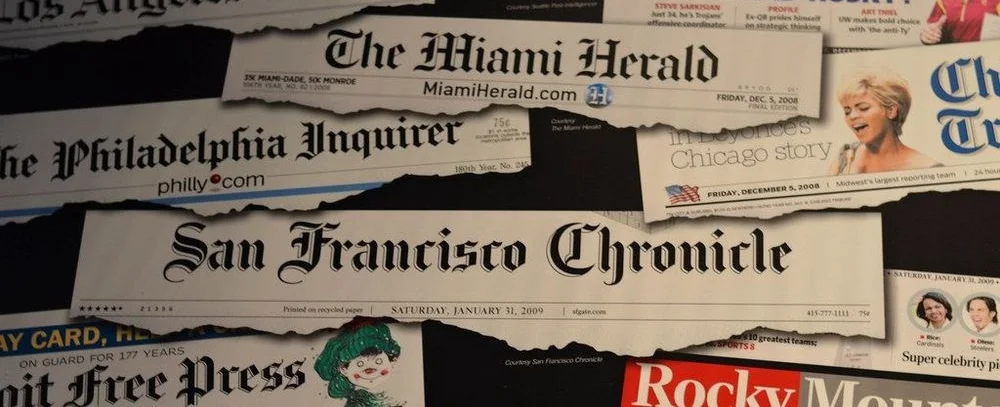 Check Out These News Updates
Parishes partner with Habitat for Humanity to take on LA's homeless crisis (Angelus News)
By Tom Hoffarth
January 20, 2022
Should you sell your house to a property buyer 'as is'? (AZBigMedia.com)
By Tom Hoffarth
January 20, 2022
The ElleVet Project (KMAX-TV CBS Good Day Sacramento)
July 23, 2021
Host: Dina Kupfer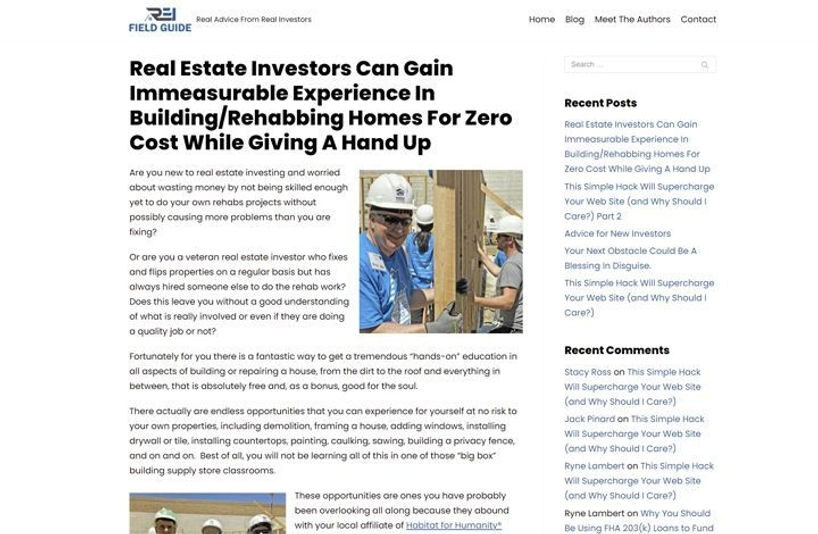 Real Estate Investors Can Gain Immeasurable Experience In Building/Rehabbing Homes For Zero Cost While Giving A Hand Up (REIFieldGuide.com)
By Barry Smith
July 13, 2021
The "ElleVet Project" Veterinary Mobile Relief Tour (KXTV-TV 10 ABC "Your California Life")
Host: Aubrey Aquino
July 12, 2021
Columbus Real Estate Investment Company Homesmith Pledges Support To Local Habitat For Humanity Affiliates (Yahoo! Finance)
April 2, 2020
Daniella Perkins Going Back To School This September to Mogul Academy (EURweb.com)
August 17, 2019
Georgia Native Meg Jones Finds Tremendous Pride In Choosing To Serve Military Community 24/7 (Homeland Magazine)
By Barry Smith
April 1, 2019
'Santa Boots' Outreach Project Surprises Deserving Military Families With Holiday Gifts Carefully Chosen By Selfless Volunteers (Homeland Magazine)
By Barry Smith
December 1, 2018
Brenda Cascio And Audrey Craig Reveal What It's Like To Be Mother-Daughter Entrepreneurs (Forbes.com)
By Deborah Sweeney
November 20, 2018
Brenda Cascio And Audrey Craig Reveal What It's Like To Be Mother-Daughter Entrepreneurs (Forbes.com)
By Deborah Sweeney
November 20, 2018
Service Dog and Chance Encounter Saves U.S. Marine Veteran With Invisible Wounds (Homeland Magazine)
By Barry Smith
August 1, 2018
Mesa Drug and Alcohol Treatment Center Extends Help Across Region (AddictionNow.com)
By Robert B. Hayek
May 16, 2018
New drug and alcohol detox facility in Mesa begins admitting patients (KTAR News/92.3 FM)
By KTAR.com
May 10, 2018
http://ktar.com/story/2059410/new-drug-and-alcohol-detox-facility-in-mesa-begins-admitting-patients/
Former USMC EOD Tech Johnny Morris Still Helping Vets Relax Vets Relax While Thriving On Alabama's Gulf Coast (Homeland Magazine)
By Barry Smith
May 1, 2018
Market need drives growth for Footprints (Behavioral Healthcare Executive)
By Julie Miller, Editor in Chief
April 13, 2018
Inspired At 15 To Join Military After 9/11, USMC SSgt Jake McCormack Now Striving To Be Role Model For His 9-Year-Old Son (Homeland Magazine)
By Barry Smith
April 1, 2018
Teaching Patriotism, Safety and Survival Skills Are Key Priorities For Texas Mother Serving In The U.S. Air Force Reserves (Homeland Magazine)
By Barry Smith
March 1, 2018
U.S. Army Veteran Continues Family's Military Path En Route To Kentucky Colonel Honors (Homeland Magazine)
By Barry Smith
February 1, 2018
Opioid Crisis Hits Home: Surge In New Addiction Treatment Centers Continues (Philadelphia Business Journal)
By John George
February 1, 2018
2018 Marks New Chapter for Army Vet, Military Spouse and Military Mother Who Continues To Give Back (Homeland Magazine)
By Barry Smith
January 1, 2018
Holidays Always Tough For Gold Star Mom Advocating Nationally For Better, Stronger, More Resilient America (Homeland Magazine)
By Barry Smith
December 1, 2017
Shout Out: Caitlin Simpson, a regional director with Footprints to Recovery in Arlington Heights (Chicago Tribune/Arlington Heights Post)
By Karen Ann Cullotta
November 28, 2017
http://www.chicagotribune.com/suburbs/arlington-heights/news/ct-ahp-shout-out-caitlin-simpson-tl-1207-20171128-story.html
Speaking Honestly Is The Best Medicine (Homeland Magazine)
By Barry Smith
November 2017
Footprints to Recovery Achieves Behavioral Health Care "Gold Seal of Approval®" Accreditation From the Joint Commission (Yahoo! Finance)
October 11, 2017
It's a "Damn Good Day" for 16-Year Navy Vet and Former EOD Technician Who's Now Rocking Civilian Life (Homeland Magazine)
By Barry Smith
October 2017
White Sox Partner With Drug Treatment Center On New Campaign (SportsBusiness Daily – Closing Bell)
By Eric Fisher
September 20, 2017
http://www.sportsbusinessdaily.com/Daily/Closing-Bell/2017/09/20/White-Sox.aspx
Marine Veteran of Operation Enduring Freedom Believes 9/11 Is Catalyst for America's Next 'Greatest Generation' (Homeland Magazine)
By Barry Smith
September 2017
Blaze of Glory Comes to the Aid of U.S. Army & Coast Guard Veteran (Homeland Magazine)
By Barry Smith
August 2017
Special Forces Army Veteran Is Picture-Perfect Model Of Positivity
(Homeland Magazine)
By Barry Smith
July 2017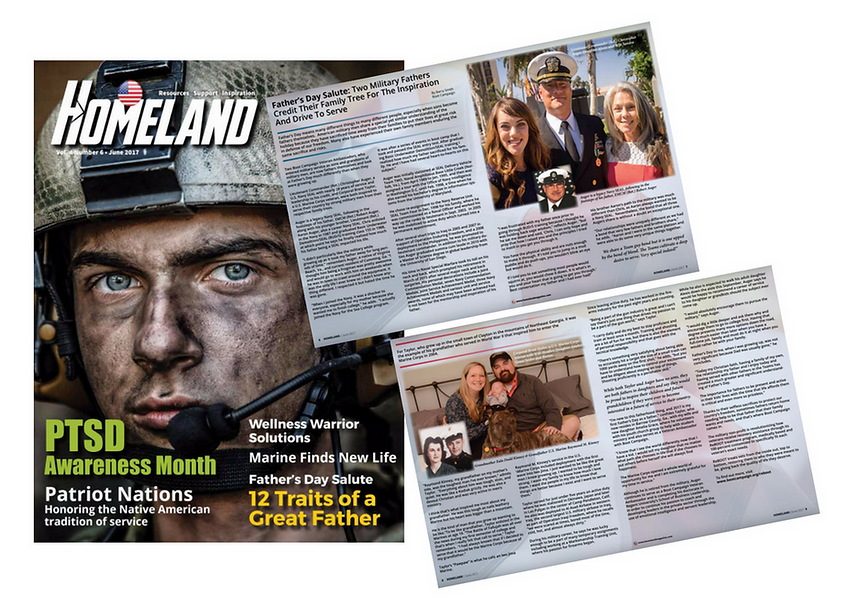 Father's Day Salute: Two Military Fathers Credit Their Family Tree For The Inspiration And Drive To Serve (Homeland Magazine)
By Barry Smith
June 2017
Memorial Bracelets Keep The Bravery and Valiant Efforts of Fallen Comrades
Top of Mind (Homeland Magazine)
By Barry Smith
May 2017
Turn It Off and Turn It On Again! (Homeland Magazine)
By Barry Smith
April 2017
Military Service Spawns Career in Law Enforcement and Life of Service
(Homeland Magazine)
By Barry Smith
March 2017
A Sugar-Sweet February Love Story: Courage, Compassion & Creativity
(Homeland Magazine)
By Barry Smith
February 2017
Bare Beauty (Vitamin Retailer Magazine)
By Janet Poveromo
January 2017
http://go.epublish4me.com/ebook/ebook?id=10091989#/46
Rockland's "NÜD" new to vitamin industry (Rockland County Times)
By Kathy Kahn
November 17, 2016
http://www.rocklandtimes.com/2016/11/17/rocklands-nud-new-to-vitamin-industry/
'94 Aggie Serves Veterans As CEO Of Boot Campaign (Aggie Network)
By Holly Rine '16
November 10, 2016
http://www.aggienetwork.com/news/143903/94-aggie-serves-veterans-as-ceo-of-boot-campaign/
Dentserv Dental Services, PC is answering the call to help flood victims in Louisiana, donating oral hygiene kits to flood victims. (FiOS1 – Lower Hudson Valley)
August 23, 2016
http://www.marketwired.com/press-release/dentserv-spearheads-campaign-donations-essential-emergency-relief-supplies-support-louisiana-2152307.htm
Independence Day Weekend brings Hero Ambassador and retired USMC Staff Sgt. Johnny Morris and Boot Campaign into the limelight (WALA-TV Studio 10, Mobile, Ala./Pensacola, Fla.)
July 1, 2016
http://www.fox10tv.com/story/32355822/help-the-boot-campaign-a-program-dedicated-to-our-military-community
Memorial Day spotlight on retired Marine Staff Sgt. Mark Burleson, a Boot Campaign Hero Ambassador, and Patriot League educational initiative
(WGN-TV 9 Chicago)
May 30, 2016
http://wgntv.com/2016/05/30/midday-fix-boot-campaigns-patriot-league/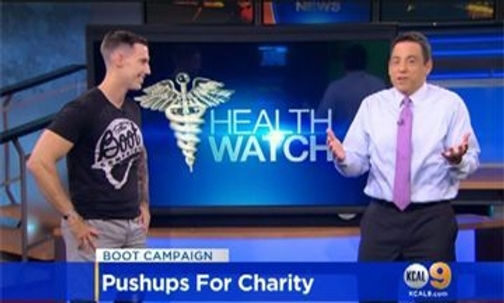 Pushups For Charity with retired Marine Staff Sgt. and Boot Campaign COO Johnny "Joey" Jones featured on Health Watch (KCAL-TV 9 Los Angeles)
May 23, 2016
http://losangeles.cbslocal.com/video/3419911-take-the-pushup-challenge-with-military-veteran-joey-jones/
Boot Campaign's Hero Necklace by Shelly Brown highlighted in "Thoughtful Mother's Day Gifts That Give Back" (Parade Magazine)
by Janene Mascarella (@MrsWrite)
April 25, 2016
http://parade.com/470902/janenemascarella/thoughtful-mothers-day-gifts-that-give-back/
Charity Spotlight: Getting The Boot (Soap Opera Digest)
April 25, 2016
Lewis Howes' The School of Greatness featured among "Best Podcasts You Need To Hear" (ElaineSir.com)
by Elaine Sir
April 25, 2016
http://elainesir.com/best-podcasts-you-need-to-hear/
This N.Y. Utility Offers Power, Gas — and Security Cameras (Bloomberg News)
by Jonathan Crawford
April 19, 2016
http://www.bloomberg.com/news/articles/2016-04-19/this-new-york-utility-offers-power-gas-and-security-cameras
Jari Love's Get RIPPED! (TM) Instructor Certification Tour to Run Throughout North America in 2016 (MarketWatch)
April 12, 2016
Profile / Christian Howes: 'KEEPING JAZZ ALIVE': Violinist who overcame dubious past hailed as crossover artist for 21st century
(The Columbus Dispatch)
by Nancy Gilson | For The Columbus Dispatch
March 13, 2016
A.M.P.A.S. Governors Ball Media Preview (KABC-TV 7 Los Angeles)
by George Pennacchio
February 18, 2016
http://abc7.com/video/ (Chef Wolfgang Puck to Cook Up Feast For Stars On Oscar Sunday) – Mark Held, Mark's Garden
Super Bowl 50 Radio Row: FOXSports @TheBuzzer
with Kristen Balboni
February 5, 2016
http://www.msn.com/en-us/sports/nflvideos/wounded-warriors-share-details-on-the-football-game-they-will-have-this-super-bowl-weekend/vp-BBpbs7b
Players: CHRISTIAN HOWES – Purpose & Power (DownBeat Magazine)
by Michael Barris
February 2016
Christian Howes – American Spirit: Leading Jazz Violinist/Composer Invites Reflection on American Identity in Ambitious New Recording (Reuters)
October 8, 2015
http://www.reuters.com/article/2015/10/08/idUSnMKWhbNRda+1cc+MKW20151008
The Madison Square Garden Company and Major Energy Announce Renewed and Expanded Marketing Partnership (Yahoo! Finance)
October 8, 2015
​http://finance.yahoo.com/news/madison-square-garden-company-major-120500341.html
Exclusive: 'Hit the Floor's' Logan Browning puts her #BootsOn to support our troops (RollingOut.com)
by Ruu Hawkins
September 11, 2015
​http://www.rocklandtimes.com/2016/11/17/rocklands-nud-new-to-vitamin-industry/
Staff Sgt. (ret.) Joey Jones, USMC EOD, Talks Boot Campaign with Daytime (WFLA.com)
August 5, 2015
http://wfla.com/2015/08/07/the-boot-campaign/
'The Middle' Star Atticus Shaffer Puts Spotlight On Patriotism (KABC-TV 7 Los Angeles)
by George Pennacchio
July 8, 2015
http://abc7.com/entertainment/the-middle-star-atticus-shaffer-puts-spotlight-on-patriotism/836421/
Major Energy Inks Deal With The New York Yankees On New Multi-Year Marketing Partnership (Bloomberg.com)
February 25, 2015
http://www.bloomberg.com/news/articles/2015-02-25/yankees-sign-multiyear-sponsorship-contract-with-major-energy
Major Energy Announces Multiyear Deal To Sponsor Yankees (Street & Smith's Sports Business Daily)
February 25, 2015 by SBJ/SBD
Major Energy today announced a multiyear sponsorship deal with the Yankees, becoming the club's official energy supply company. The agreement includes activation at Yankee Stadium, such as permanent signage in the visitor's bullpen, branding on the Great Hall LED screen, branding on TVs at the ballpark, ads in Yankees Magazine and a presence at the New Era Pinstripe Bowl. The deal complements Major Energy's tie-in with the Knicks and MSG (Major Energy).
@MajorEnergyESCO #majorenergy @SBJSBD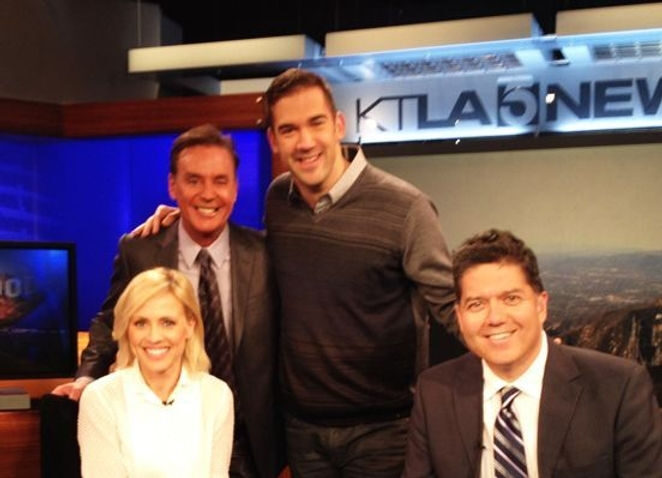 Lifestyle entrepreneur, author, business coach, "School of Greatness" podcast host, former pro athlete and current USA Men's National Handball Team member Lewis Howes appears on KTLA Morning News to share his "Four Tips to Building an Online Business Using Social Media" (KTLA-TV 9 Los Angeles).
February 4, 2015
http://ktla.com/2015/02/04/how-to-build-a-business-using-social-media/
Irishman's 71-year-old Mammy battles stage fright and white-water rafter
for new TV show (Discovery Life Channel)
by Jane Walsh @irishcentral
February 10, 2015
http://www.irishcentral.com/culture/entertainment/Irishmans-71-year-old-Mammy-battles-stage-fright-and-white-water-rafter-for-new-TV-show.html
Why '50 Ways To Kill Your Mother' (Discovery Life Channel) Will Inspire You

The Huffington Post | By Ann Brenoff
February 5, 2015
http://www.huffingtonpost.com/2015/02/05/50-ways-to-kill-your-mother_n_6614140.html?1423156970
Five Ways To Find A Job Through LinkedIn with Lewis Howes
(WPIX-TV 11 Morning News, New York)
January 19, 2015
​http://pix11.com/2015/01/19/five-ways-to-find-a-job-through-linkedin/
Dr. Deborah Gilboa – Parenting Expert and Author –
(WKYC-TV NBC 3 "Live on Lakeside," Cleveland)
Sept. 12, 2014
​
Can you teach a toddler the difference between right and wrong before they are able to talk? And how to make sure they understand what we are trying to communicate to them? Dr. Deborah Gilboa (@AskDoctorG) to tell us how to approach this.
http://www.wkyc.com/story/entertainment/television/lakeside-live/2014/09/12/dr-deborah-gilboa–parenting-expert-and-author–91214/15513971/
The 2 things you should teach your kids about tragedies – Dr. Deborah Gilboa
(WJW-TV Fox 8 News in the Morning, Cleveland)
Sept. 12, 2014
http://fox8.com/2014/09/12/the-2-things-you-should-teach-your-kids-about-tragedies/
Jazz Violinist Christian Howes and Conductor Douglas Droste Represent America in Ukraine With Jazz/Orchestral Diplomacy Mission
(Photo by Victor Kushnirenko)
July 4, 2014
http://www.marketwired.com/press-release/jazz-violinist-christian-howes-conductor-douglas-droste-represent-america-ukraine-with-1926885.htm