BLSPR In The Community
Habitat For Humanity Greater Los Angeles
BLS Public Relations proudly supports
Habitat For Humanity Greater Los Angeles.
(310) 323-4663
@HabitatLA
What Habitat LA Does
The overwhelming need for housing in our communities has provided Habitat For Humanity Greater Los Angeles (Habitat LA) with a unique opportunity to change lives in our local neighborhoods
Los Angeles ranks as one of the least affordable housing areas in the U.S. and yet Habitat for Humanity is one of the few – if not only – affordable homeownership programs that serves families and individuals earning 30-80 percent of the median family income.
Cost burden and overcrowding are the most serious problems experienced by very low-income area Southern California residents.
Working with volunteers, families and individuals, corporations, congregations and donors Habitat LA is able to tackle this important housing issue throughout greater Los Angeles. Habitat LA is dedicated to making homeownership possible for low-income, hardworking families and individuals.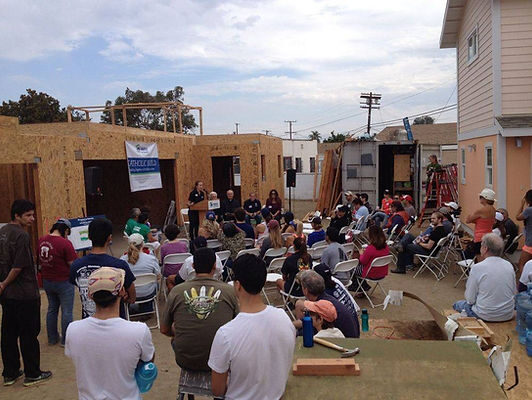 Hand Up, not a Hand Out!
Habitat for Humanity Greater Los Angeles offers a hand up, not a hand out. With the support of community partners, donors and volunteers, Habitat LA constructs new or renovates existing homes alongside Habitat Partner Homebuyers. In addition to a down payment and monthly mortgage payments, homeowners invest Sweat Equity hours building their future Habitat home and the homes
of other Habitat Homebuyers. Habitat homes are sold to Partner Homebuyers at no profit and financed with affordable loans.
Since 1990, Habitat LA has built and rehabilitated more than 500 houses in neighborhoods all across greater Los Angeles. Shelter is a basic human need and Habitat for Humanity strives to achieve its goal of eliminating substandard housing by making decent, sustainable and affordable housing a reality for all.
Giving Back
Habitat For Humanity Greater Los Angeles educates volunteers and interested community members of all ages on how important it is to give back. Habitat LA believes everyone needs a decent, affordable place to live and everyone is welcome to help with the work, regardless of race, religion, age, gender, political views or any of the other distinctions that too often divide people. Be a part of the fun… volunteer at a Habitat For Humanity near you!
Get Involved!
BLS Public Relations participates on the Habitat For Humanity Greater Los Angeles' marketing and communications committee, as well as in home builds and other activities.
Thousands of Volunteers are the heart of the Habitat LA program who lend a hand in home building and rehabilitation, and there are many ways to get involved including but not limited to the donation of financial support, building materials, trade skills, lunches, etc.
BLSPR encourages individuals and groups to support this worthy organization in any way possible. To find out how, visit http://www.habitatla.org/.
Habitat LA Presents Milestone Home No. 500
On Aug. 23, 2014, Habitat LA presented a set of keys to the new owners of its 500th newly built or rehabilitated home in Los Angeles since 1990, but not until they finished their own work on the property. As part of the program, Habitat
Homebuyers must be willing to partner with Habitat LA by completing:
200-500 Sweat Equity hours;
A HUD-certified pre-purchase homebuyer education workshop;
Habitat LA's Habitat Homebuyer Investment Program.